Posts for tag: dentures
By Intown Dental Center
November 09, 2018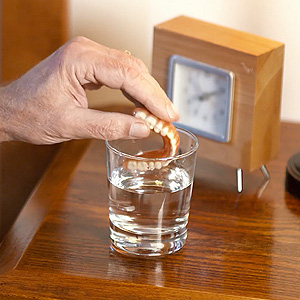 Dentures can be an effective and affordable solution for people who've lost all their teeth. With them a person can once again eat nutritiously, speak clearly and smile confidently — and with regular care they can last for years.
As part of that ongoing care, be sure you consider one important thing with your dentures: you may want to take them out at night while you sleep. If you do you'll lessen your chances of developing these 4 health problems.
Accelerated bone loss. Traditional dentures are fitted to rest securely on the gums. This, however, creates pressure on the gums and the bony ridges beneath them that can contribute to bone loss. Wearing dentures around the clock usually accelerates this process, which could eventually lead to among other problems looser denture fit and discomfort.
Bacterial and fungal growth. Microorganisms that cause oral diseases find conducive breeding spots on the underside of dentures while they're worn in the mouth. Studies have found that people who continuously wear their dentures are more likely to have bacterial plaque and oral yeast than those that don't.
Potentially dangerous infections. Bacterial and fungal growth increases your risk of oral infections that could affect more than your mouth. A recent study of elderly nursing home residents found those who wore their dentures during sleep were over twice as likely to develop serious cases of pneumonia requiring hospitalization. It's believed bacteria harbored on the dentures can pass from the mouth to the lungs as a person breathes over them while they sleep.
Blocked salivary flow. During the night our salivary flow naturally ebbs; wearing dentures while we sleep could cause denture stomatitis, in which the tissues covered by a denture (particularly along the roof of the mouth) become inflamed and infected with yeast. It's often accompanied by angular cheilitis or cracking at the corners of the mouth that becomes infected by the same yeast.
Wearing your dentures while you sleep contributes to conditions ranging from irritating to life-threatening. To prevent such problems clean your dentures as well as the rest of your mouth regularly — and talk to your dentist whether you should leave them out when you go to bed.
If you would like more information on denture care, please contact us or schedule an appointment for a consultation. You can also learn more about this topic by reading the Dear Doctor magazine article "Sleeping in Dentures."
By Intown Dental Center
May 12, 2018
For generations, dentures have helped people avoid the dire consequences of total teeth loss. Now, implant technology is making them even better.
Composed of life-like prosthetic teeth fixed within a plastic or resin gum-colored base, dentures are manufactured to fit an individual patient's mouth for maximum fit, comfort and performance. But dentures also have a critical drawback—they can't stop bone loss in the jaw.
Bone is constantly regenerating as older cells dissolve and then are replaced by newer cells. In the jawbone, the forces generated when we chew travel through the teeth to the bone and help stimulate this new cell growth. When teeth are missing, though, the bone doesn't receive this stimulus and may not regenerate at a healthy rate, resulting in gradual bone loss.
Dentures can't transmit this chewing stimulus to the bone. In fact, the pressure they produce as they rest on top of the gums may actually accelerate bone loss. Over time then, a denture's once secure and comfortable fit becomes loose.
In the past, most patients with loose dentures have had them relined with new dental material to improve fit, or have new dentures created to conform to the changed contours of the jaws. But implant technology now offers another alternative.
Implants are in essence a tooth root replacement. Dentists surgically implant a titanium metal post directly into the jawbone that naturally attracts bone cells to grow and adhere to it over time (a process called osseointegration). This not only creates a secure and lasting hold, it can also stop or even reverse bone loss.
Most people know implants as single tooth replacements with a porcelain crown attached to the titanium post. But a few strategically placed implants can also support either removable or fixed dentures. Removable dentures (also called overdentures) usually need only 3 or 4 implants on the top jaw and 2 on the bottom jaw for support through built-in connectors in the dentures that attach to the implants. A fixed bridge may require 4-6 implants to which they are permanently attached.
There are pros and cons for each of these options and they're both more expensive than traditional dentures. In the long run, though, implant-supported dentures could be more beneficial for your bone health and hold their fit longer.
If you would like more information on implant-supported dental work, please contact us or schedule an appointment for a consultation.