Posts for tag: dental implants
By Intown Dental Center
November 19, 2018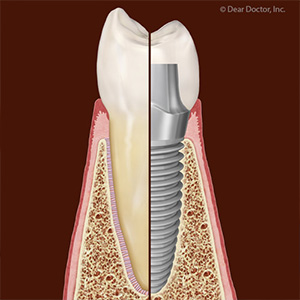 There are several reasons why dental implants are so popular. Perhaps the most important, though, is their longevity: if maintained properly implants can last for decades. However, they're not indestructible—certain mouth conditions could put them at risk for early failure. But if you address emerging problems early, you may be able to prevent that unfortunate outcome.
Your implants may be in danger, for example, if you have a teeth grinding or clenching habit. This occurs when a person involuntarily and repeatedly bites down on their teeth when not chewing or speaking. Usually triggered in adults by high stress, teeth grinding can subject both natural teeth and implants to damaging levels of force. Over time this can cause bone loss around an implant and weaken their support. It could also cause a direct break in an implant.
But there are ways to stop or at least reduce the effects of teeth grinding. One effective way is a custom-made bite guard you wear while you sleep. Made of hard plastic, the guard prevents the teeth from making solid contact with each other, reducing the amount of force generated.
A more prominent problem is periodontal (gum) disease, a bacterial infection caused by built-up dental plaque on tooth surfaces. This can trigger inflammation, a normal defensive response that when it persists for an extended period of time can damage tissues and supporting bone. It can also cause a specific form of gum disease related to implants called peri-implantitis, in which the tissues that support an implant become infected and weaken, leading eventually to possible implant failure.
If you have implants, then, you should brush and floss daily to prevent gum disease, as well as see your dentist at least every six months for cleanings and checkups. And if you notice anything like reddened, swollen or bleeding gums, see your dentist immediately. The sooner you undergo treatment, the better the outcome for your implants as well as your overall health.
Dental implants can give you years of great service and can prove to be well worth the cost. But you'll have to stay on your guard against gum disease and other mouth conditions that could endanger them down the road.
If you would like more information on dental implants, please contact us or schedule an appointment for a consultation. You can also learn more about this topic by reading the Dear Doctor magazine article "Dental Implants: A Tooth-Replacement Method that Rarely Fails."
By Intown Dental Center
August 01, 2018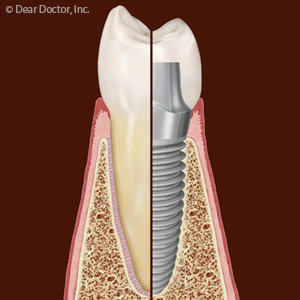 Dental implants have become the standard for long-term tooth replacement. From mechanics to movie stars, people from all walks of life have discovered the advantages of replacing a missing tooth with an implant. Obviously, restoring your smile is a definite advantage, but an implant can also help to maintain the health of your jawbone and adjacent teeth.
The implant is a small, screw-like titanium post that is placed into your jawbone to function as the root part of the tooth. The living bone tissue will actually attach to the titanium post, fusing them together. This will not only provide a sturdy anchor for a natural-looking crown, but will provide stability for bridgework or dentures. You will then be able to smile, chew and talk as if all of your teeth are natural. The procedure will also help to stabilize the bone, reducing long-term bone loss that occurs when a missing tooth is not replaced.
At this point, if you are thinking that there must be a lot of pain involved, I have good news for you. There is very little pain involved after the procedure is completed and no pain at all during the procedure. Typically, it is a routine surgery that takes place in a dentist's office under local anesthesia where the immediate area is numbed. If there is any apprehension at all about the procedure, we will offer alternative anesthesia or sedation options during the planning process.
To determine who will be a good candidate for the implant procedure, a plan must be in place to assure the success of the implant. Part of the plan includes:
Reviewing your past medical and dental history. We must know your complete past and present medical history and medication use, since good health is essential. There are certain conditions and diseases that can affect the healing of an implant.
Performing a comprehensive dental examination. An evaluation of your dental problems and needs will determine if implants are in your best interests. An assessment of the health and mass of the jawbone as well as the number and location of the implant(s) that are needed to restore your bite and smile back to health will also be determined.
When the implant procedure has been successfully completed, there is one more step. As with your natural teeth, preventive maintenance is crucial for long-term success. A daily routine of brushing and flossing along with regular professional dental cleanings and checkups will help ensure continued gum health and proper functioning of your implants.
If you are wondering whether dental implants are right for you, contact us for more information or schedule an appointment for a consultation. You can also learn more about dental implants by reading the Dear Doctor magazine articles "Dental Implants" and "Dental Implant Surgery."
By Intown Dental Center
May 12, 2018
For generations, dentures have helped people avoid the dire consequences of total teeth loss. Now, implant technology is making them even better.
Composed of life-like prosthetic teeth fixed within a plastic or resin gum-colored base, dentures are manufactured to fit an individual patient's mouth for maximum fit, comfort and performance. But dentures also have a critical drawback—they can't stop bone loss in the jaw.
Bone is constantly regenerating as older cells dissolve and then are replaced by newer cells. In the jawbone, the forces generated when we chew travel through the teeth to the bone and help stimulate this new cell growth. When teeth are missing, though, the bone doesn't receive this stimulus and may not regenerate at a healthy rate, resulting in gradual bone loss.
Dentures can't transmit this chewing stimulus to the bone. In fact, the pressure they produce as they rest on top of the gums may actually accelerate bone loss. Over time then, a denture's once secure and comfortable fit becomes loose.
In the past, most patients with loose dentures have had them relined with new dental material to improve fit, or have new dentures created to conform to the changed contours of the jaws. But implant technology now offers another alternative.
Implants are in essence a tooth root replacement. Dentists surgically implant a titanium metal post directly into the jawbone that naturally attracts bone cells to grow and adhere to it over time (a process called osseointegration). This not only creates a secure and lasting hold, it can also stop or even reverse bone loss.
Most people know implants as single tooth replacements with a porcelain crown attached to the titanium post. But a few strategically placed implants can also support either removable or fixed dentures. Removable dentures (also called overdentures) usually need only 3 or 4 implants on the top jaw and 2 on the bottom jaw for support through built-in connectors in the dentures that attach to the implants. A fixed bridge may require 4-6 implants to which they are permanently attached.
There are pros and cons for each of these options and they're both more expensive than traditional dentures. In the long run, though, implant-supported dentures could be more beneficial for your bone health and hold their fit longer.
If you would like more information on implant-supported dental work, please contact us or schedule an appointment for a consultation.